Awaken your inner knowing,
realize who are are and why you were born
so that you can fulfill the purpose
of your existence.
New Documentary with Sai,
Sri Sri Ravi Shankar, Sadguru Jaggi Vasudeva
and the world's leading gurus.
India's "Burning Man" on the Ganges January 15-26, 2018
Become a Certified Kids Mindfulness Teacher, December 9 & 10
May the whole world live in peace
UPCOMING PROGRAMS:
Global Shaktipat Meditation,, Saturday, January 6th,  9:00 am Pacific 641-715-3660 pin 762617#  
January 15-25, 2018, Enlighten Man Retreat & Carnival, Rishikesh, India
January 15-26, 2018, Kundalini Teacher Certification Course concurrent with Enlighten Man
Ongoing Satsangs teleconferenced each Sunday.
The next Self Realization Course begins February 17th, Saturdays at 9:00 am PST teleconferenced live.
Free Movie
Enlightenment Now, the Awakening of Humanity just click the image below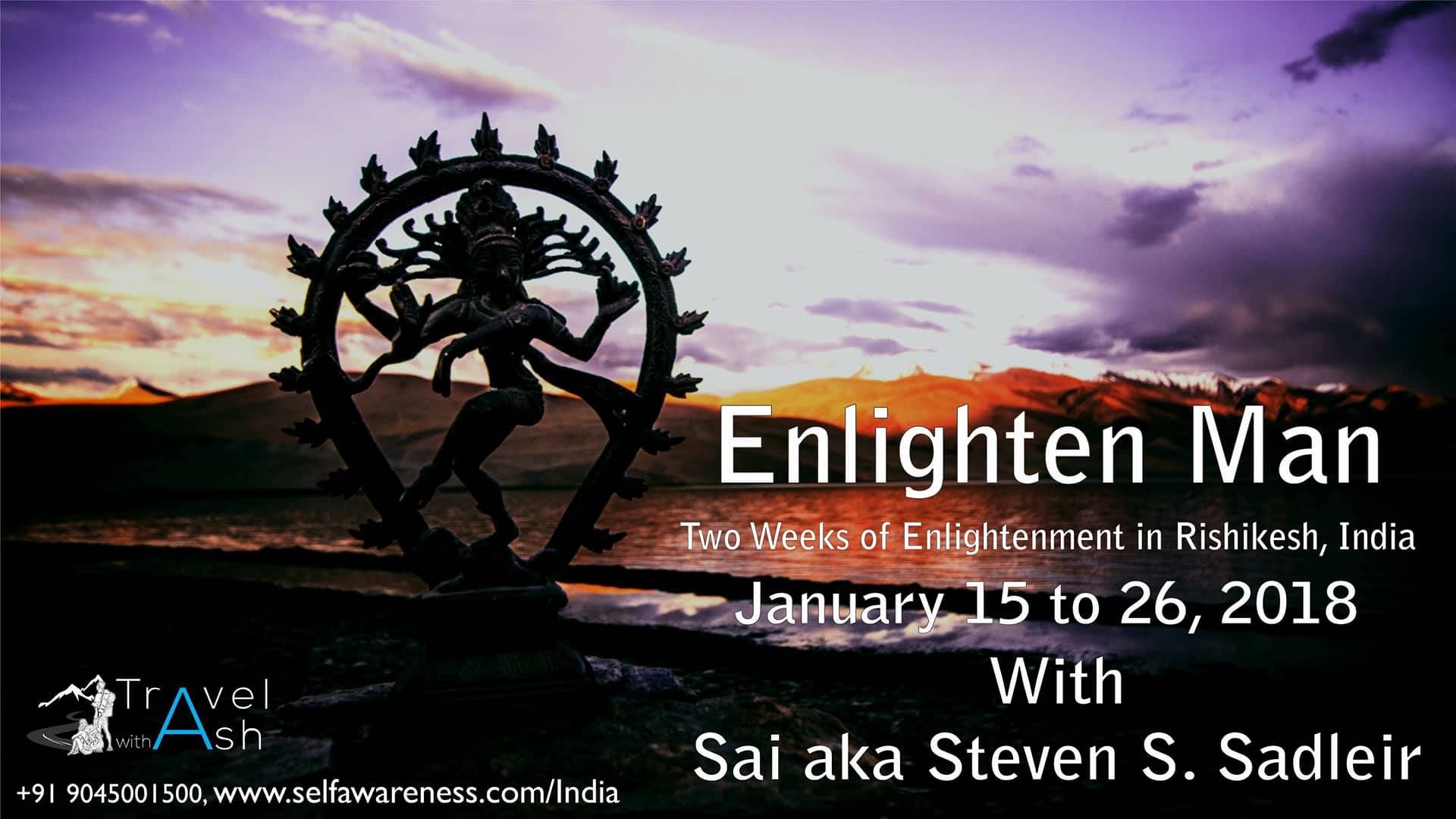 Come to the Free Evening Satsangs at Sri Sri Ravi Shankar's Art of Living Ashram, the enjoy the Carnival, the Burning Man on the Beach on the 18th, the Free Kundalini Weekend Intensive, the yoga, music and play
and/or
Include Teacher Training in Kundalini & Kriya and get Certified to Teach

Become Certified with the Self Awareness Institute to teach Meditation & Mindfulness, including instruction in Kundalini, Kriya & Tantra yoga and meditation plus gain a thorough overview of Jhana yoga philosophy. This is a two-week advanced intensive training to obtain certification to teach meditation and become a true Yogi.
SAI has trained hundreds of teachers for over the past 30 years who are now teaching all over the world, join us.
Become a Certified Kundalini & Kriya Instructor
This is an advanced two week intensive training, previous yoga experience as a teacher or practitioner of yoga is advised. For two weeks you will be immersed in yoga, meditation and mindfulness, plus enjoy music, dancing, healing and play.
Our focus is on meditation and enlightenment, not postures. Here are just a few of the things you will learn:
A complete philosophical overview of yoga philosophy, ashtanga, kundalni, kriya, tantra, advita and vedanta

Experience the various forms of pujas (rituals), chanting, mantras, ritual bathing and purification plus the Enlighten Man

A scientific explanation of how Kundalini Shakti works, the Chakra system and Universal Magnetism

Your Kundalini will be awakened and raised, and you will recalibrate to a higher level of consciousness each day

You will learn Kriya yoga, Prana Kriyas, and various Asanas and Ashtanga Yoga, and will get practice each day

You will receive Shaktipat transmissions every day and experience going into ever deeper Samadhi states

You will learn the yogic diet,  how to eat right and cleanse your body and learn the secrets of cell regeneration

You will meet many different Masters, Yogi's and Babas and Ayurvedic Doctors to learn from the world's best teachers

You will also have a lot of fun. We dance, and play, and will take hikes and visit the sacred cave and much more.
 Each graduate will receive a certification and mala upon graduation.
Air is separate, you can fly into New Delhi and take a taxi to Rishikesh (recommended) or take a flight to Dehradun. You can also find your own hotel/food and just take the training with us for $775., and you can come to the evening Satsangs and Enlighten Man event for free.
Our man in India Ashutosh Garg aka "Ash" – Phone+91 90450 01500 (India time zone 12 hours)
If you have trouble getting through to Ash, you can also leave word with Kassandra in USA 949-355-3249 or Kassandra@SelfAwareness.com
You are certainly welcome to come to Enlighten Man and Saiji's Satsangs without having to pay anything. Satsangs are free, we would love to meet you. We are gathering together all those around the world who have been called to help enlighten the world, all of us.
Support the movement. We appreciate your support. Let's change the world.